If you're trying to decorate a small home, it can sometimes feel like your options are limited. And while there's not much you can do to add square footage, there are plenty of ways to make your tiny apartment feel perfectly put together. The key is taking advantage of the largest open spaces you have—your walls.
All the wall arts below are available at canvasbay.com – one of the best places to find home decor creatives. You can either go directly and checkout or you can use my coupon code HAPPY10 for 10% discount.
First thing First - The Quality
Installing a new wall art brings new life to your space but it can be a terrible sight if the's made of cheap materials. All the wall arts below are crafted with the highest quality materials and technology available. Moreover, they are all 
284 GSM (What it is?).
Even though these 7 arts look beautiful on screen, they should equally resonate on actual canvas.
Artist-grade poly-cotton blend canvas.
12 color pigment-based inkjet printing using archival inks. This provides a very vibrant gamut.
Full Solid hardwood frame.
Hand stretched and stapled.
Scratch-resistant UV coating.
Corner bumpers for level hanging and to protect your wall.
Includes pre-installed hardware and hanging kit.
So now you are aware that whichever art you choose, you're getting the best quality. Now it's the easy part below. Just decide which one you would love on your walls. Do not judge these wall arts by the order. They all are equally amazing.
1. Majestic Auroras Wall Art
Imagine standing on a frozen lake just north of the Arctic Circle. Suddenly, somewhere in the northern sky, a green smudge of light begins to materialise and slowly manifests itself into dancing stair rods of shimmering green light which skip across the darkness of space. Well, now you can feel the same or recall that sight with this beautiful wall art!
2. Vintage tree canvas wall art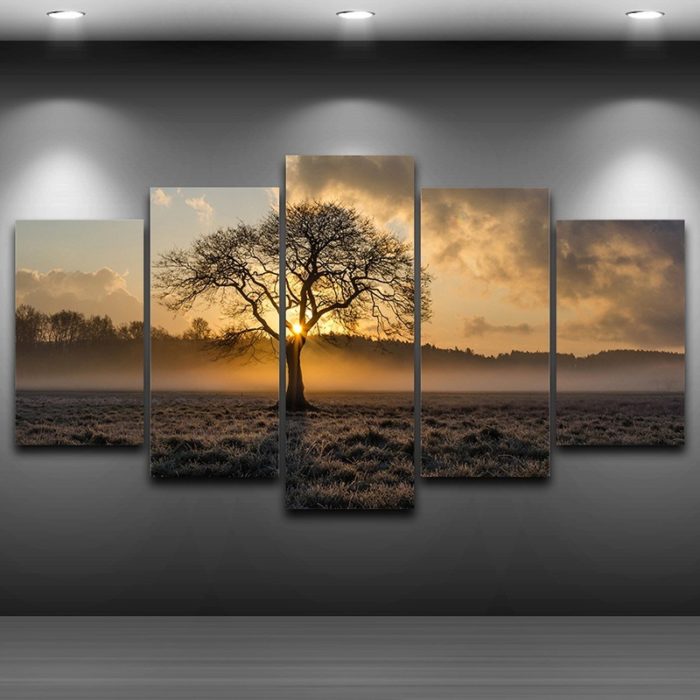 Decorate your living room or bedroom with this beautiful Vintage tree canvas wall art. The dawn of the sunrise and the silence of the scene make it look magnificent. You can have a coffee and stare at it with your intense imagination and you would listen to a whisper in your heart that says strongly – "Wow"!  The wall art is made on 100% canvas with waterproof ink.
3. Rick and Morty Wall Art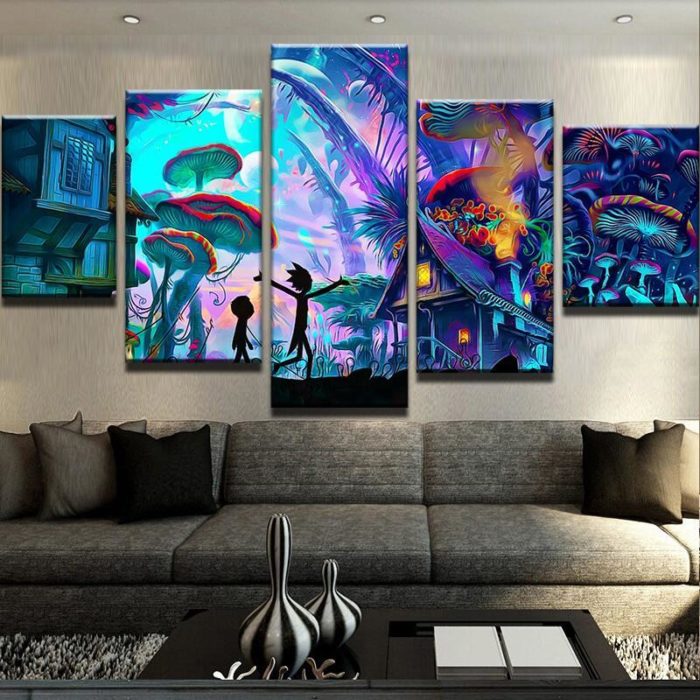 This Rick and Morty canvas wall art will become the centerpiece of your child's room in no time. Printed with sophisticated digital technology to capture a level of detail that is absolutely stunning. The colors are vivid and pure. The high-quality canvas fabric, fine and smooth texture adds a premium feel perfect for the living room.
4. Running horses Wall Art HD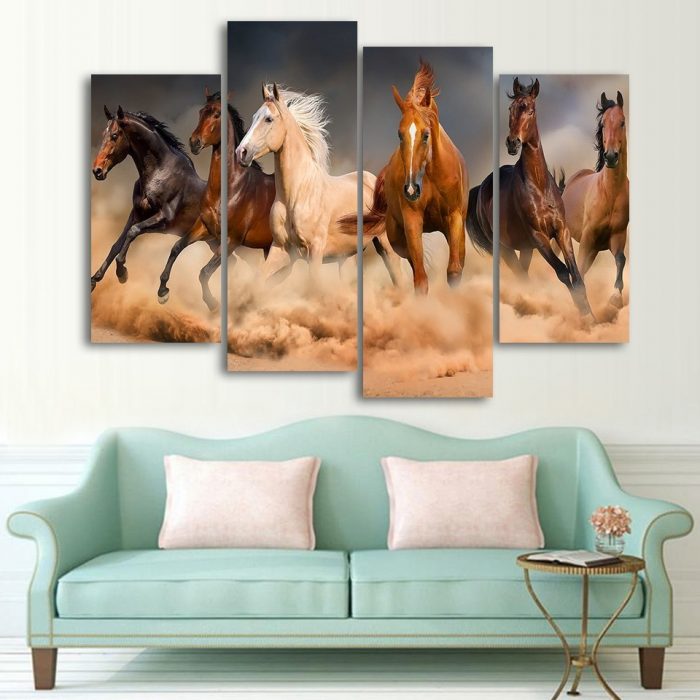 The running Horses represents vitality and freedom not just physically but mentally and spiritually. There is nothing constraining the Horse when it runs with the wind. As they move gracefully towards their goal, it requires power, nobility and strength. This vibrant wall art will become of the jewel of your home in no time. Cultured with advanced and most excellent canvas printing technology that makes it eye-catching and sturdy.
5. Modular Floral Wall Art
Give your walls a vibrant pop of color with this Modular Flower Canvas Wall Art set. The lively floral leaf print features beautiful, bold fire yellow and orange hues that look great in your living room, office or lobby. Each canvas has a sawtooth back for easy hanging and can be hung side by side, one above the other or in two completely separate locations.
6. Enchanted Tree canvas Wall Art
Walls looking a little bare? Plain? Drab? A budget-friendly piece of wall art is just the thing to fill in the gaps and spruce up your walls. Take this piece of wall art for example: a photographic print, of a very close up image of a fantasy forest. Made with utmost care, this Enchanted Tree Canvas Wall Art HD is printed on wood wrapped canvas, and is perfectly at home in modern and contemporary aesthetics. It arrives with wall mounting hardware.
7. Vintage Guitar Wall Art HD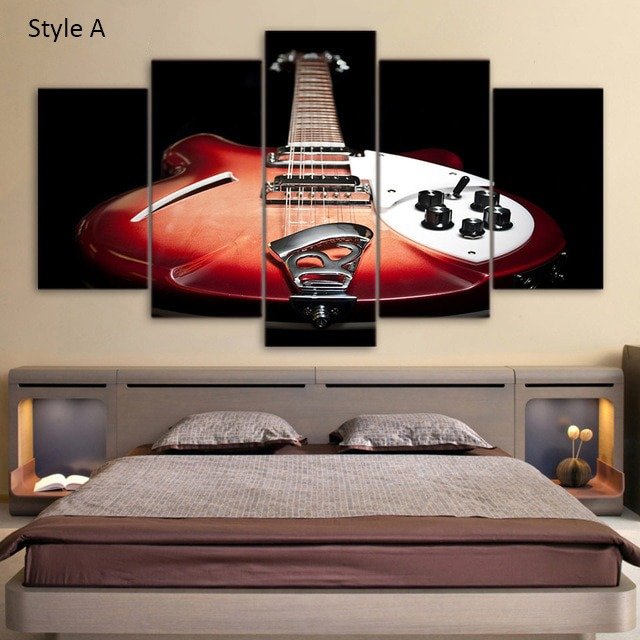 Music impacts you both physically and emotionally. It accelerates brain development and intelligence. if your thoughts are influenced by music or maybe you are a guitarist, then you know better how good this art may be for you!
Use the code HAPPY10 for 10% discount.
Share with your friend, who would love these wall arts!